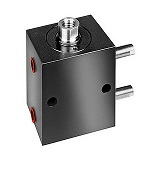 New block locking cylinder VBZNI 250
Dynamic, innovative, forward-looking. Our new VBZNI250 compact locking cylinder from HEB. Double-acting with integrated locking and end position monitoring with only two sensors, operating temperatures up to 120° C. Available in 7 designs, all variants with bleed screws as standard. Available from piston diameter 32 (locking force 55 kN) to piston diameter 63 mm (locking force 140 kN)
Most designs are interchangeable 1:1 with and without a range of end position sensing block cylinders. Remove the previous cylinder, screw in the VBZNI250, bleed and you are ready to continue production as the cylinder dimensions match our cylinder series.
HEB complements the VZS251 series of locking cylinders with a more compact version that has been used in moulds and tooling for many years.
The configurator is available at https://www.heb-zyl.com/cs/hydraulicke-valce/blokovaci-valce/vbzni250
more information